As online video continues to gain popularity with businesses and consumers alike, marketers are looking for the next big thing to differentiate themselves from the competition or to more effectively communicate their message. One of these up-and-coming solutions rapidly rising in popularity is interactive video.
Interactive video is a powerful medium to engage viewers while also offering optional content markers within a single player. In this way, viewers can choose their own experience and ultimately maintain engagement throughout the entire video. What's more, it helps to provide more valuable statistics in relation to what areas of the video are most interesting for viewers. Using these tactics, marketers can more easily nurture first-touch opportunities through the sales funnel, which is precisely what many of our clients at Revolution Productions are looking to achieve.
In the buzzing start-up scene of Berlin, Germany, we sat down with Anna Rose, co-founder and CEO of Videopath to get her inside view of interactive video and what role it plays in the future of online video.
* * *
Can you briefly describe the journey that led you to establish Videopath as well as provide a brief introduction of your product?
Anna: The idea for Videopath was inspired by an earlier project I had produced called Diktatur bewältigen It was a custom HTML5 project produced with a team of developers and designers. The purpose of the project was to combine a documentary and a book. The result was a merged media project that inspired viewers to find out more about the documentary.
Afterwards, we realized that we had a really powerful medium, but it wasn't one that could be easily replicated. With that came the inspiration for a tool like Videopath that allowed users to combine video with other content like text, photos, images and websites.
Videopath is a video application that let users connect we content directly to specific moments in a video. The result is an east-to-use, customizable HTML5 video player that plays on all browsers and all mobile devices without ever leaving the video player.
How exactly does Videopath's player work?
Anna: It's actually very simple. Users import the URL of videos hosted on existing platforms (Vimeo, Wistia, YouTube) into our cloud-based project builder. They then drag and drop the content onto the timeline an then publish their new interactive project into their blog or website using the embed code. They also can share the URL for the project on all social channels and email.
The interactive video's performance can be tracked in our analytics dashboard. For advanced performance marketers, we also allow them to add a Google Analytics tracking code and capture even more Videopath viewer behavior in their own GA dashboard.
What is the existing status of interactive video and where does it fit into the wider market of online video?
Anna: Interactivity is inevitable. It already exists in the form of YouTube annotations and with touch screens all around us. Additionally, with a booming video game market, viewers have come to expect clickable media – especially younger viewers.
Currently, I think many existing video player solutions have more distracting forms of interactivity such as pop-ups or hot-spot technologies. While these may seem to work for a while, viewers quickly develop behaviors to avoid these distracting elements and their effectiveness to drive conversions goes down over time.
Instead of simply adding extra distractions, Videopath focuses on a model that uses video as the backbone of the content discovery experience. If they willingly opt in for more content, they are signaling that they are engaged and are more likely to absorb the content or purchase the product. On the flip side, if you are blasting distracting pop-ups at them, you will lose interest and create a defensive reaction.
How do you see the development of interactive video progressing from a technological standpoint in the next few years?
Anna: We have a vision for where we see video going and we definitely see it moving onto new screens. As of current, there are essentially four screens we use on an everyday basis: TV, desktop, tablet and phone. However, we are already seeing new screens being introduced such as the watch, and I am sure there's definitely going to be more screens appearing in the near future. These new screens will dramatically change the way video is consumed by people.
We believe that a contextualized video experience is really important because one of the downsides of video is that it shortens a message, which can be dangerous because you can cut out a lot of the context. By adding context back into video in the form of optional markers, you are able to tell a more complete story, which will be a crucial concept as video moves into these new screens.
In your opinion, what are the top ways interactive videos can be integrated into an existing marketing strategy?
Anna: We are big fans of content marketing. Creating videos that help customers or somehow adds value to their lives. I think the era of straight advertising is coming to an end.
Video
Why Traditional Advertising Isn't Working
I would say start with valuable content that can be viewed over and over. Something like a tutorial about a topic related to what you are selling. E.g. If you are selling kitchenware, it would make sense to show a cooking video where a chef is using your products.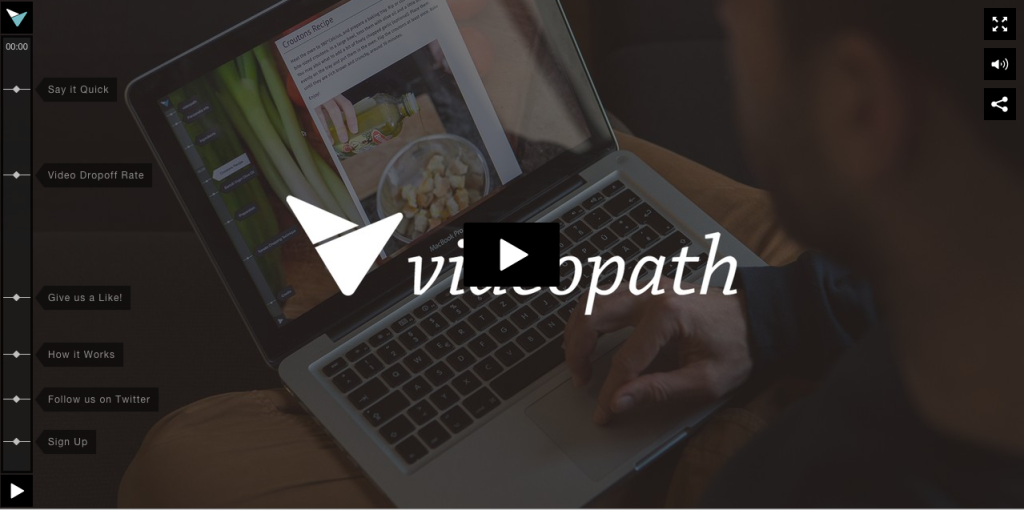 * * *
Marketers looking to incorporate interactive video into their existing marketing strategy will find that it's uses are quite widespread – from content marketing to presentations and recruiting videos – but what is truly great about an interactive video solution is that it provides an optimized user experience that compliments a viewer's journey rather than distracting from it.
"With interactive, you're not advertising. You're not shoving information in people's faces, you're trying to get them to explore and enjoy your content. And that's one of the reason it really works." Anna Rose